Jurassic World: Dominion Dominates Fandom Wikis - The Loop
Play Sound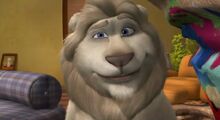 In 2002, Jeffrey Katzenberg came up with the idea for the series when he visited Siegfried & Roy's show in Las Vegas: "I thought, I wonder what it's like for those lions. What must life be like from their point of view? [They're] living in Las Vegas, trying to raise a family and earn a living. In animation, we look for those things — a way to look at our lives through a fantasy world. It allows us to take on subjects that are too difficult to do with real people. It allows us to be more controversial. Edgier. There can be parody and innuendo and satire. Things can be sophisticated in a way that even our feature films can't be."[1]
According to Katzenberg, the series was created for "an 18- to 49-year-old. It's not about checking to make sure you don't leave the 6-, 7- and 8-year-olds behind. This is purely an adult show."[1]
It cost an estimated $13 million and it took more than 200 animators two years to make the series.[1] Computer animation was produced at Imagi Animation Studios,[2] in Hong Kong.[3] Father of the Pride employed a small group of seasoned directors which included Mark Risley, Bret Haaland, Steve Hickner, John Holmquist, John Stevenson, and Mark Baldo. Felix Ip served as creative director for Imagi.
Long before its broadcast, the series was almost cancelled, following the near-death of Roy Horn in October 2003; but after his condition improved, both Siegfried and Roy urged NBC to continue production. Katzenberg recalled, "There was a short period of time where we all just rocked out on our heels and couldn't be particularly creative and certainly not very funny. But Siegfried kept saying, every step of the way, that this show meant so much to them. So much to Roy. Then, even more than it ever did."[1]